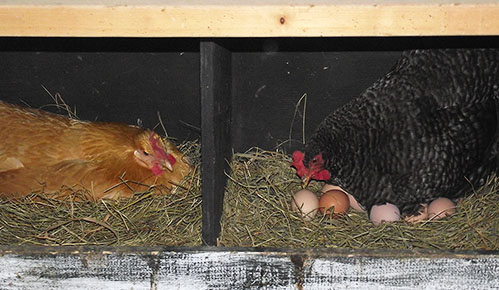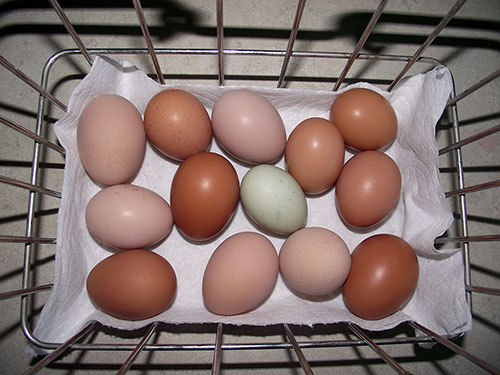 PRODUCTION

We gather the eggs every day. The hens lay their eggs in the nest boxes inside the coop, so we always know when the eggs were laid and that they are fresh. If we do find an occasional egg laid outdoors, we do not include it in our product for sale.

A hen will begin to lay eggs around six months of age. When they first begin, they are called Pullets. Their first eggs are small and can have shell irregularities like wrinkles, brown spots, or a blemish that is actually an extra deposit of calcium and looks like a small mole on the egg. Sometimes there may be a red spot (called a meat spot) on the yolk or a small piece of tissue inside the eggs. These are all things that a hen's body can produce while it is trying to get the laying "plumbing" to work regularly. None of these things affect the taste or nutritional value of the egg. They are merely cosmetic. Interestingly, the same anomalies can occur when a hen is aging and coming to the end of her laying ability.

STORAGE

• Fresh eggs do not need to be refrigerated. That's right. They will not spoil or grow chicks if kept on your kitchen counter, at a normal room temperature, for up to a couple of weeks. Refrigeration will definitively stop any chick development, so if you're worried about it, go ahead and refrigerate. Well, why do the grocery stores refrigerate them and it says to do so on the egg cartons? Because those eggs are usually produced in a "factory" with thousands of hens and tens of thousands of eggs and the eggs go through a washing process. Because of the processing and shipping in commercial egg factories, the eggs arrive at the grocery store already about a week old.

• Fresh eggs should not be washed until used. When an egg is laid, it is wet. The wetness is a thin film, called a bloom, that gets applied over the shell. As the bloom quickly dries, it seals the pores in the egg's shell, keeping bacteria out. If the egg is washed, the bloom is removed and the egg is susceptible to bacterial contamination. This is another reason that factory eggs are kept refrigerated. If our eggs are soiled, we will wash the offending spot with water, but try not to wash the bloom off the entire shell. If they are greatly soiled, we do not include them in our product for sale.

• All eggs should be stored with the big end up. That's where the air pocket is and you can tell if an egg is fresh by submerging it in a bowl of water. If the egg sinks and lays on its side, the air pocket is small and the egg is fresh. If it sinks, but stands on its point, it is getting old and you should eat it or hard boil it. If the egg floats, the air pocket has enlarged and is taking up more of the egg. The egg is old and should be discarded.